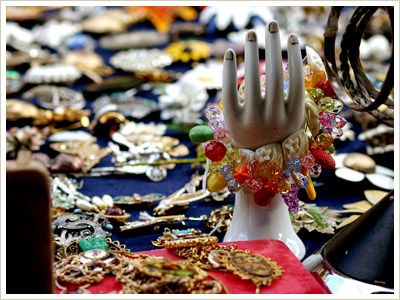 Navigating flea market booths is easy if you come prepared and keep your wits about you.
MAKE A PLAN. Some people like shop at the end of the day when vendors are ready to get rid of everything, but we suggest to go to the flea market around 10 a.m. – everything's unpacked, but it's not yet picked over. If you're overwhelmed by a big flea market, narrow your search to a single item or category. Talk to the vendors; you'll quickly learn whose taste you trust. It you're a regular, they'll keep an eye out for the things you're looking for.
PACK YOUR BAG. Always have a big tote and plenty of cash with you; paying that way often means you can negotiate a better deal. And bring camera. I decorated a showroom and an apartment from flea markets, and I knew I didn't want to make spur-of-the-moment purchases. I took pictures of the furniture I liked, which let me hold off and make better decisions later. You do run the risk that something will be gone by the time you come back for it, but I subscribe to the "it'll be there is it's meant to be" school of shopping.
TEST YOUR WARES. When you're browsing for clothes, pull on the seams to make sure the construction is sturdy. Beaded pieces are particularly delicate. Skip the antique shoes – old leather dries out and splits.
SEAL THE DEAL. Value at flea market is subjective. Only you can decide whether the price you've been quoted is reasonable. Make what you think is a fair offer, but a truly lowball bid is insulting.
An interview With Anna Sui by Rachel Sturtz