In the premiere episode of the Mad Man fifth season the new tone sets Megan – the new Mrs. Draper, played by Jessica Pare.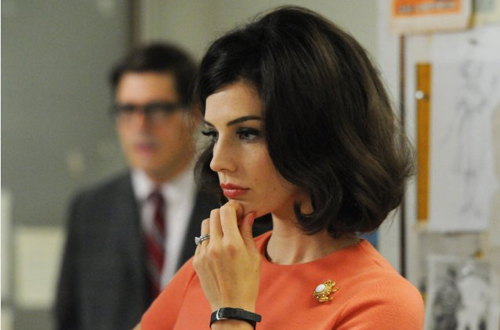 We can see from the heroine dresses how the focus has been shifted. In earlier Mad Man episodes Betty and her ideal image of an American housewife from the suburbs were the main reference point: A dress with a flowered bell skirt, white gloves to the elbow, patent leather pumps, hair style of Grace Kelly were in a word the embodiment 60s with the influence of the 50s.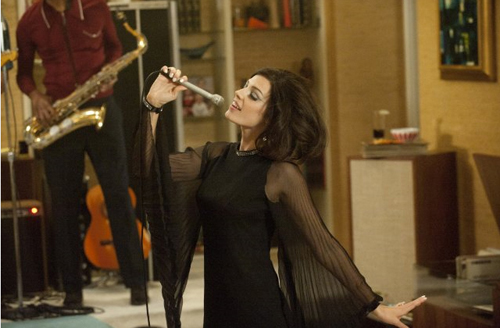 Megan is still the same freedom-loving French Canadian lady with manners, which were in the style of swinging late 60s. Megan in the new episodes of Mad Man wears a short dress of silk jersey geometric print, large gold-plated jewelry, shoes with low heels and strong eye makeup. In her grand entrance at the party in honor of the Don's birthday she wears a black mini-dress with wide sleeves trimmed with crystals.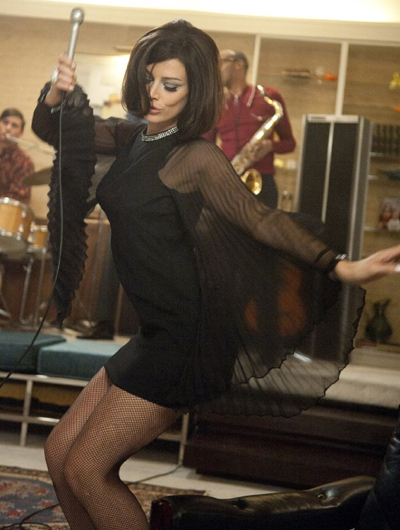 The rest of the girls at the party dressed in accordance with the fresh trends in silk dresses with vibrant bohemian prints.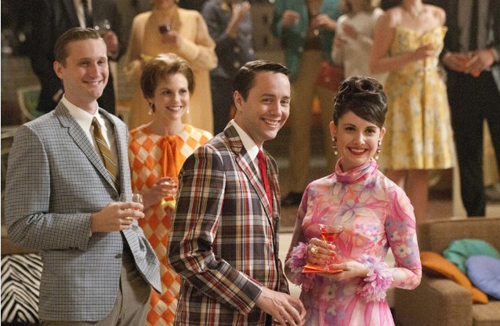 Fanaticism of the Mad Man creator Matthew Weiner to the validity of the period is well known. Interior designers and costume designers are going crazy in order for you to see the right sofas, and that actors wear correct ties.
The Mad Man costume designer Janie Bryant makes a slow change of the office girls appearance at the "Draper, Sterling -Cooper" office from the neat blouses and wide skirts to a short dress in the spirit of Twiggy.
Sex Bomb Joan still wears dresses of moderate length. Peggy still looks shy.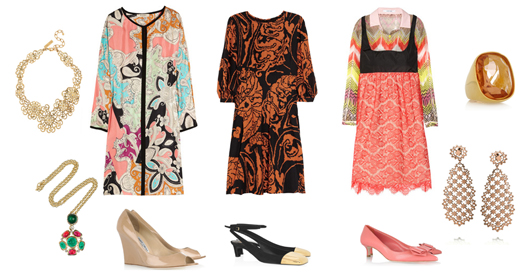 On the photo: Necklace from Oscar de la Renta, pendant from Kenneth Jay Lane., Tunic by Etro,  shoes from Jimmy Choo, dress from Gucci, shoes from Yves Saint Laurent, Dress by Carven, shoes from Miu Miu, ring by Kenneth Jay Lane, earrings by Laurent Gandini.
There will be no difficulty in repeating the Mad Man's style for silk dresses with its retro prints, jewelry, small bags,  and shoes with a flat nose are all can be found in fashion spring-summer 2012 collections.