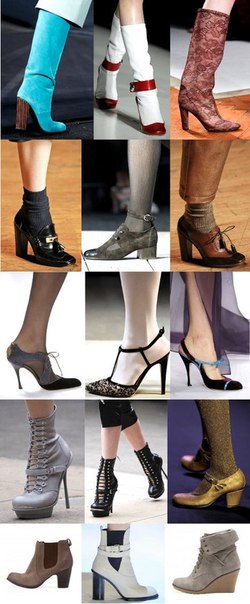 Finally every woman's dream of comfortable and at the same time fashionable shoes has come to a reality and fashionable footwear in 2012 is a clear confirmation of that!
Casual fashion footwear in 2012 has a low and medium height heel, wide toe in the form of an oval or softly rounded square, which creates favorable conditions for the normal functioning of the foot. Stunningly handsome, high and slim heel retains its position only in the assortment group of shoes for special occasions – here he is the best!
The range of footwear in Shoe Fashion 2012 doesn't change much: we still have the same boots, ankle boots, jackboots and shoes of different designs.  There is all kind of lacing shoes in a big favor this season, but it looks particularly impressive in the boots and ankle boots from McQueen and Versace. You can find very interesting shoes from Carolina Herrera with front and rear lace. Fur finishing boots are not relevant in Shoe Fashion 2012, but the fur lace ankle boots from Altuzarra looks very nice.
Unusual model of boots from Prada created a whole furor in the fashion world: it is kind of hybrid of boots, stockings and shoes. The tops of the boots are made of soft leather, while the lower part – in the form of shoes with a strap-style belt "Mary Jane" or with a strap or bracelet. Part of the designer's boots and shoes in Shoe Fashion 2012 is distinguished by color and texture. Some shoe models use combination of matte leather with brilliance as well as reptile embossed with the smooth leather. The color scheme is in line with fashion trends.
Aristocratic lace, popular in clothing this season 2012 is being used in shoes too:  the "parquet" boots from Valentino, Bottega Veneta shoes and etc.
Appearance of boots with a straight leg and folding in the ankle area in the 2012 boots fashion is the influence of 70's and 80's fashion. You'll see such boots from Valentino, Diane von Furstenberg, Kors, etc. These models have high and thicker heel.
Models of casual style shoes in Shoe Fashion 2012 are restrained in color, decoration and design textures of materials, so they often look like the male model range. You will find such in the collections of Chanel, Derek Lam, Anna Sui, Fendi. In 2012 shoes fashion popular "loafers" shoes design with high setting on the rise and with side bands.
You will find an interesting Australian shoes from Betts: they have a combination of beauty and comfort!
Shoes in spring 2012 fashion trends shoes with straps going up in the style of "Mary Jane" are the most frequent model for the youth in Marc by Marc Jacobs, Anna Sui collections and etc.
In shoes for special occasions high stiletto heels reigns from all, but the evening shoes are very concise and simple, sometimes even look plain.
Shoe fashion 2012 gives preference to natural materials. Suede, smooth matte and shiny skin is the most popular and also embossed reptile like python, crocodile, etc.
Color spectrum in spring 2012 fashion trends shoes is very moderate; it includes traditional shoe colors like black, brown, burgundy, dark blue. In some collections of spring 2012 fashion trends shoes models come in bright yellow, turquoise, emerald-green and red colors.
Shoe Fashion 2012 can meet the most exacting taste: it is beautiful and comfortable at the same time, and that is a rare phenomenon in the fashion world!
Other Fashionistas Searched For:
shoes shoes
shoes for women
women and shoes
shoes 2012 summer spring collection
shoes womens