Dior Fashion Collection Autumn 2012
At the last John Galliano for Dior, it was the seamstresses and other behind-the-scenes wizards who came out to take the final bow in their white overalls. The fact goes beyond the merely anecdotal and is worth understanding because the house skills that have given the fashion designer's ideas from over a decade and more and more have reached an unparalleled peak of virtuosity. Fashion Collection from Christian Dior Autumn 2012 in Paris again, the romantic elegance of bouffant satins, oceans of tulle, flashes of velvet, fur, feathers and skins worked their chic, delicate magic with knickerbockers, loose-fitting shorts, lingerie dresses, boxy suit jackets and Byronesque floor-length capes and coats, in a lovable, electric fashion collection of individual pieces that would add a shot of killer charm to any wardrobe.
Dior Fashion Collection Autumn 2012: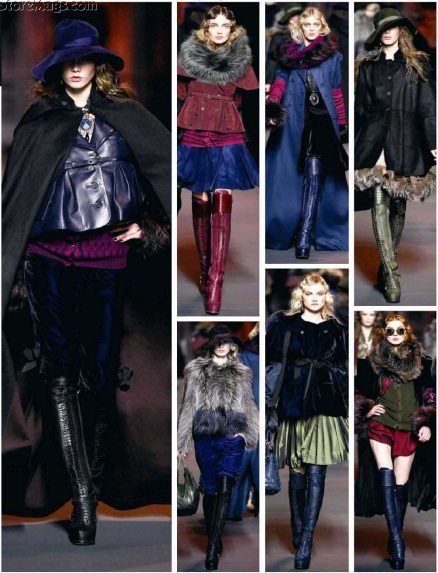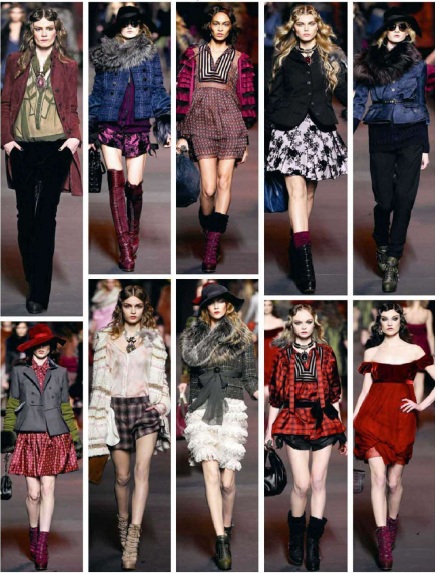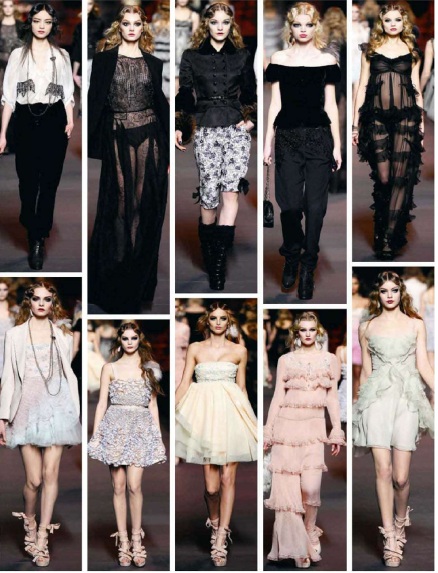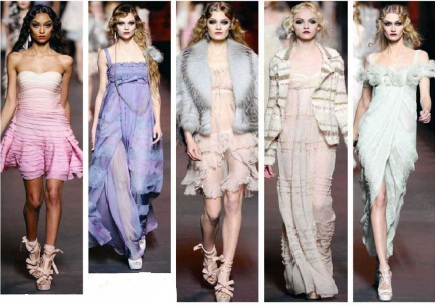 Chanel Fashion Collection Autumn 2012
Karl Lagerfeld said the smouldering ashes and soot backdrop of his latest fashion collection 2012 were inspired by his Hamburg childhood, fed on the darkness of Fritz Lang's images and Verlaine's poetry. But the apocalyptic vision of the catwalk décor takes on a whole other meaning when you look at the outfits one-by-one. The Chanel suit has morphed into shifts and mannish trousers and vintage-style denim leggings. Chanel tweeds and boucle and padded knits were unrelentingly rough on the outside, and the use of proportion (short jackets over longer ones) accentuated the girls' legginess. So, far from bringing Armageddon to a catwalk near you, Lagerfeld reinvents the assertive street chic that a younger generation will instantly identify with.
Chanel Fashion Collection Autumn 2012: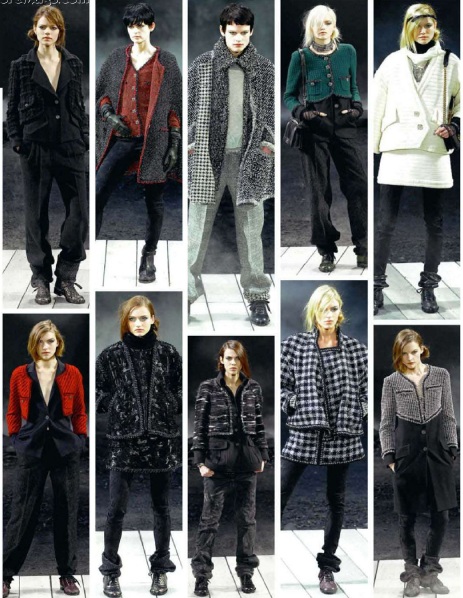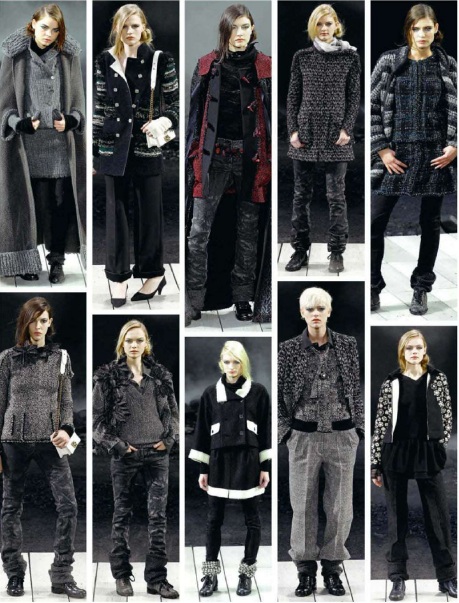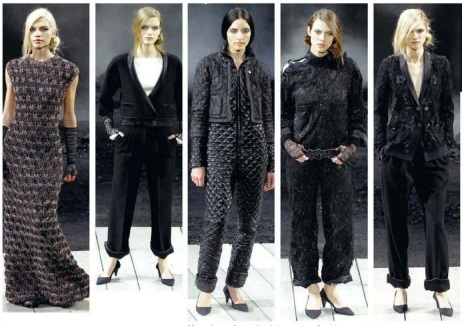 Yves Saint Laurent Fashion Collection Autumn 2012
Black and grey for daywear, a blizzard of white for the evening, and in both cases, the kind of wardrobe we've come to expect from a house like Yves Saint Laurent. Like many of Yves Saint Laurent peers autumn 2012 fashion season, Stefano Pilati plunged into the boy/girl thing with alacrity. But in Yves Saint Laurent case, he is designing for the house that invented the tux for women… so we expected nothing less. This meant rounded shoulders and clean, active class-act for the silhouette, with skirts worn just above the knee in a perfectly-balanced combination of sexy and strict that paired simple dress with coats, suits, shifts, and pants. On the sexy side, faux-demure pleated skirts and flashes of fur sounded the odd Lolita, while in the strict corner, Prince of Wales checks and low, double-breasted buttonings were decidedly characterful.
 Yves Saint Laurent fashion collection 2012: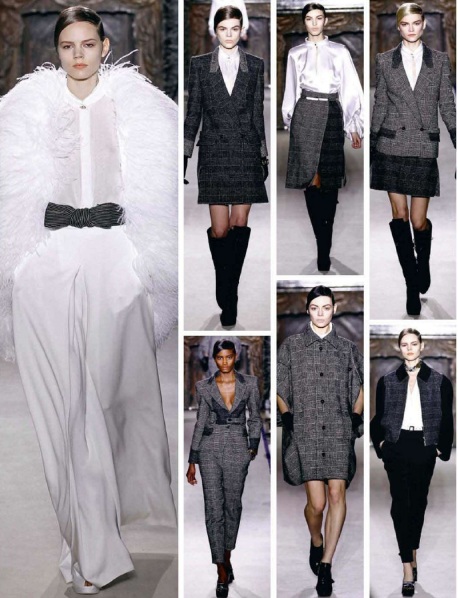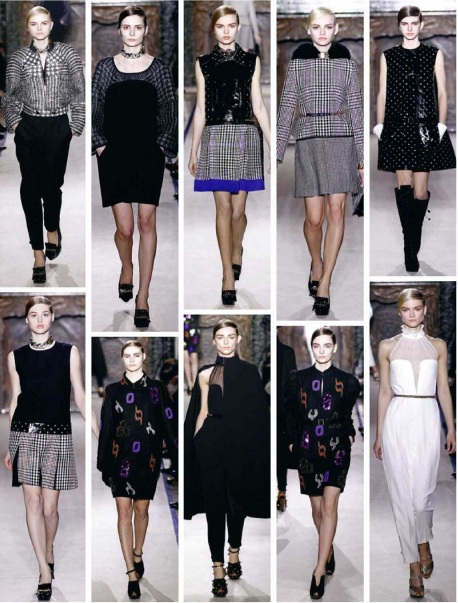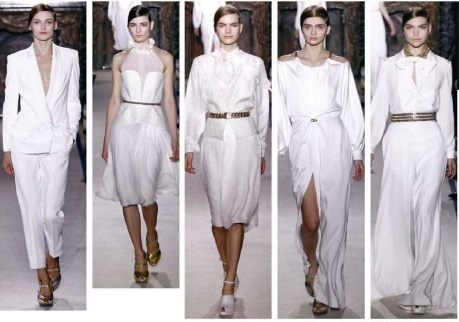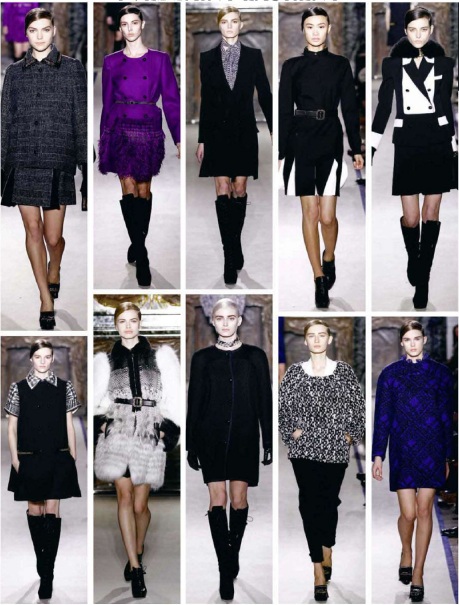 Céline Fashion Collection Autumn 2012
Phoebe Philo said she drew her inspiration this autumn 2012 fashion season from luxury car interiors, the Rolls-Royces and Bentleys of this world, to ply the road to unfailingly impeccable chic. The designer was most definitely in the driving seat here, as she sent out a line-up of sharp, sleek silhouettes, that take the classic for a completely new spin. Her hallmark modern elegance is all there: sleek straight-legged trousers with leather insets, jackets and long trench coats with an interior strap to literally hold sway. Fur was, of course, in attendance, but this time it was revved up with color-blocking, streamlined dresses with leather patchwork or mahogany-grain prints in the manner of a dashboard, and a flawless mannish, albeit orange, topcoat. The Céline wardrobe is on track to become a bestseller, and is sure to win over women who would define essential in just two words: stylish and realistic. They'll be queuing up outside the store.