1. YOUR HAIR IS REALLY DIRTY
Barring a trendy turban (which would look a bit loco at a staff meeting), dry shampoo is the quickest fix for greasiness, says Los Angeles celeb stylist Eric Sebbag, who likes Rene Furterer Naturia Dry Shampoo To Go, $12, for its fast-absorbing formulation and light, floral scent (a de facto deodorizer). "Part your hair down the middle, then into two or three sections on each side," he suggests. "Lifting each section, spray lightly at the roots." Then flip your head and spritz the oft-forgotten nape of the neck for bonus boost. Do the same thing if you're using a powder formulation, or even – in a pinch – cornstarch.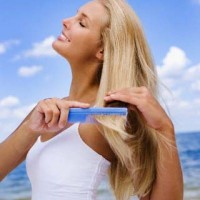 2.YOU GOT AN AWFUL (sob!) HAIRCUT
After pin-poking a voodoo doll that vaguely resembles your stylist, do this: "Whatever length the bad cut, wear your hair wavy, which obscures all sorts of flaws, from choppy layers to unevenness," Sebbag says. Using a one-inch-barrel curling iron, wrap hair away from your face, spritz the resulting waves with a light-to-medium-hold hairspray (try Paul Mitchell Super Clean Light, $13.95), then muss it up. Or, if your cut's really short, part it on the side and sweep it over with a bit of pomade and cute pin (we like the Goody Freshly Picked Bobby Slide). The gamine-y style will look totally intentional, and soon enough, you'll have a cute bob.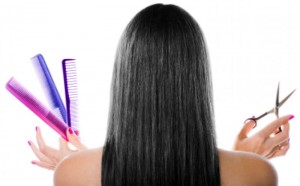 3. THE FORECAST IS 100% HUMIDITY
Avoid crazy-expansive curls with a cocktail of equal parts leave-in conditioner and frizz-fighting cream, says New York City-based stylist Danielle Irene. Try Redken Smooth Down Detangling Cream, $15, and L'Oreal Paris EverSleek Sulfate-Free Smoothing System Humidity Defying Leave-in Cream, $8.99. "While hair is still damp, section it into four pieces and apply the mixture from roots to tips, raking your hands through to coat each strand," she says. Got straight hair? Avoid flyaways by coating it (while it's dry) with John Frieda Frizz-Ease Hair Serum, Original formula, $8.99.

4.YOU'RE WAY OVERDUE FOR COLOR
Only Real Housewives actually keep up with their roots. For everyone else, there's the latest and – in our opinion – greatest root camo: Rita Hazan Root Concealer Touch-Up Spray, $24, a hairspray-like formula that comes in four shades – and in a purse-friendly little can. Pick the one closest to your dyed color, point the extra-thin nozzle at your roots, and watch them disappear (until your next shampoo). Or, if you have the right shade on hand, try mascara, Irene says. "A wide, fat wand works best if you happen to have one; just run it lightly over the grays."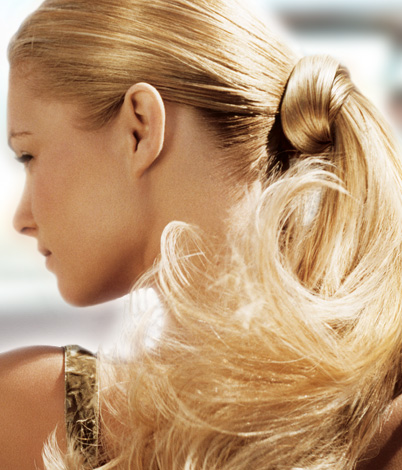 5.YOU WAKE UP WITH A CRICK IN YOUR HAIR
Yesterday's blowout gave you permission to hit the snooze button. Or so you though, until you noticed that odd crimp that formed overnight. The fix is as simple as a bit of water, says Los Angeles-based stylist Lenny Cho. "Wet the bump, either by running dampened alms over it or lightly misting it with a spray bottle. Then rub a pea-size drop of anti-frizz cream or even hand-lotion into your palms and smooth it over the bendy area." Done.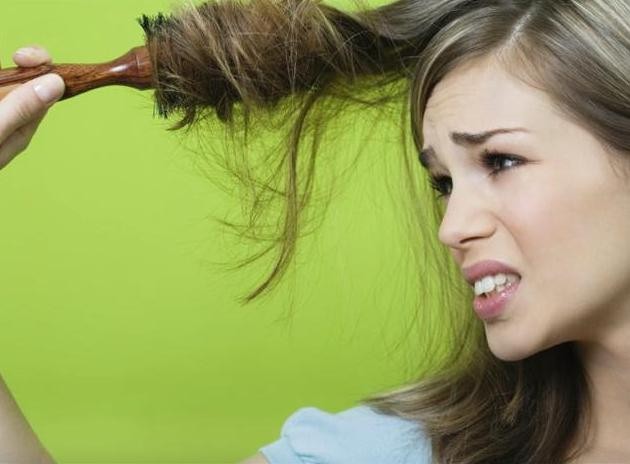 6.YOU'RE FRIED
The '80s are calling, and they want that Whitesnake-video hair back. To upgrade dry, dull, headbanger hair fast, Irene suggests using a post-shampoo treatment that combines serious strengheners (generally, some form of protein) with softeners and shine-enhancers (from vitamin E to polymers). Try Pantene Professional Level Damage Repair Ampoules, $7.99. Apply generously from roots to ends and wrap your head in a dryer-warmer towel to boost penetration. After about 5 minutes, run fingers through to loosen. "Then give your hair a day off – at least! – from heat-styling, updos, or even brushing," Irene says.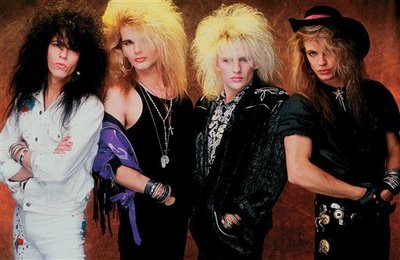 7.YOU'VE GOT FRIZZI "BABY" HAIRS
Though cute on an infant, an aura of mini frizzies around the face isn't such a hot look for adults. Luckily, any emollient – from an aloe-infused baby wipe to a lip balm or lotion – can tame them. Put a dab in your palm, says Irene (or, if you're using a baby wipe, swipe that across your palm). Then smooth over the errant hairs.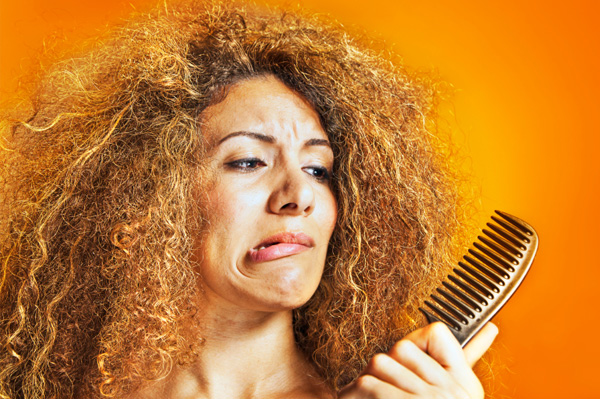 8.IT'S SNOWING ON YOUR SHOULDERS
First, force yourself to abstain from tousling the flakes out, a la Ally Sheedy in The Breakfast Club; you'll only loosen more of what's causing them, whether it's dead skin or residual product. Instead, pull your hair straight back with a wide headband, Cho says. Leave no visible part, so the flakes aren't exposed. (The wider the band, the more coverage it'll give.) In a pinch, snip a leg off some old tights, wrap it around your head, and knot it at the nape of your neck, trimming away any extra fabric. Avoid brushing your hair afterward – you might cause another flurry.