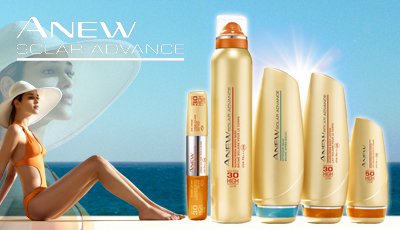 Now do more than just protect… reverse visible sun damage
Despite its warmth and beauty, the sun's UV rays can cause not-so-pretty damage. Now, you can arm yourself with a product that not only protects against harmful rays but is also shown in in-vitro testing on skin cells to repair skin cell sun damage.
Introducing AVON ANEW Solar Advance – the first anti-aging care line with RepairShield Technology.
DR. CHERYL KARCHER ANSWERS QUESTIONS
Q: What's is your advice for healthy skin?
Dr. Karcher: Sunscreen, sunscreen, sunscreen! It is the first commandment of an skin regimen.
Q: Why is sunscreen so vital?
Dr. Karcher: Long-term exposure to the sun's damaging UV rays can harm skin. It may also exacerbate the visible signs of skin aging and cause you to look older.
Q: There are so many sunscreens out there, which would you recommend?
Dr. Karcher: My patients ask me about sunscreen every day… and now I have something new to share with them: AVON ANEW Solar Advance – a revolutionary sun care line that provides both broad-spectrum photostable sunscreen and visible anti-aging benefits. As a dermatologist, I knew the importance of protection against damaging UV rays. AVON ANEW Solar Advance is a true BREAKTHROUGH because it not only protects, but also visibly reduces the signs of aging.
The sun is actually one of skin's worst enemies. The damaging UV sun rays can harm skin and visibly age your appearance over time.
When it comes to protecting your skin from the sun's rays, knowledge is power. UV rays penetrate skin's surface, damaging DNA and creating harmful free radicals that attack skin cells. The good news is, there are steps you can take to keep yourself sun-safe.
–       Steer clear of the sun during the hours its rays are strongest, between 10 a.m. and 4 p.m. Wear wide-brimmed hat for extra protection.
–       Slather on a sunscreen that absorbs both UVA and UVB, like AVON ANEW Solar Advance. This broad-spectrum sunscreen helps protect against harmful UV rays.
–       Don't wait until you're in the sun to apply sunscreen. Give it a chance to absorb into skin by applying it 10-30 minutes before heading outdoors.
–       Apply sunscreen to often-skipped areas such as your neck, ears, nose, hands, and toes, as well as the back of your arms and legs.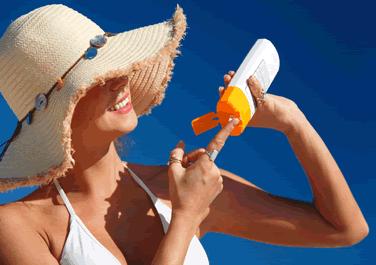 Formulated to PROTECT & REPAIR AVON ANEW Solar Advance with patented RepairShield™ is designed to:
–       REDUCE the look of wrinkles and visibly diminish discoorations
–       REPAIR 50% of skin cell damage in 24 hours in in-vitro testing
–       PROTECT by boosting skin's own antioxidants to help fight free radicals
–       PROVIDE broad spectrum UVA/UVB protection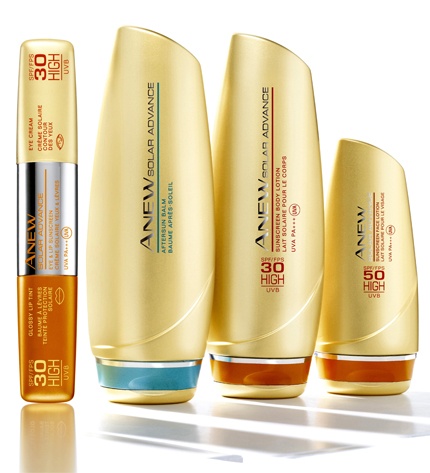 The Skin Cancer Foundation recommends AVON ANEW Solar Advance as an effective UVA/UVB sunscreen.