Easy Summer Makeup Tips
Here are some of easy summer makeup tips from celebrity makeup artist Maria Verel:
Out in the sun a lot? Here are some easy summer makeup tips. I concocted a great and makeup/sunscreen potion that makes you look great and protects you from the rays. My friend, makeup artist Fran Cooper, was testing a variety of makeup bases under the spray of a shower to see if they could stand enormous amount of sweat without sliding off the face (she was preparing to do makeup for Janet Jackson for her Live in Hawaii TV special). She told me that just wearing makeup base alone did a good job of blocking out harmful burning rays. That got me thinking… what if I were to mix a high SPF nongreasy sunscreen like my favorite Coppertone Sport 30 with a Colorstay base by my old buddies at Revlon? (Once this stuff goes on, it stays on).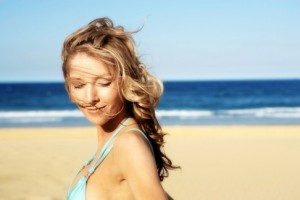 How to Wear Makeup to the Beach
We beach tested this idea inSt.Maarten and WOW, what a find! Five days in the sun and not a freckle or burn in sight. What an easy summer makeup tips! And the makeup didn't smear all over my clothes. Just one word of warning: If your skin is sensitive and you're not used to wearing makeup, you might be prone to breaking out. Make sure clean your face thoroughly before bed!
Some of Maria Verel's favorite Drugstore items:
–       Wet 'n' Wild #666 lip pencil
–       L'Oreal Colour Riche lipstick in Tawny and Cornsilk Classic Translucent Powder
–       Maybelline Illegal Lengths Mascara