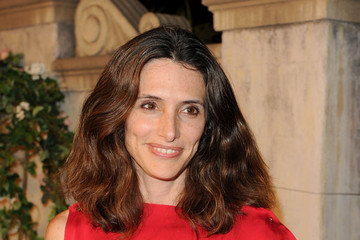 Dressing celebs like Cate Blanchett, Freida Pinto, and Amanda Seyfried leaves Elizabeth Stewart almost no time to get herself clothed. Thank heaven for her outfit-making shortcuts.
Tips from Elizabeth Stewart:
Find you signature look. "I wear dresses almost every day; I'll throw them on with a cardigan and flats. Lately, it's AlSaints boots that I sometimes wear with fishnets – hey, it's L.A.! My assistant calls this my Grandma Osen look, but I love it because it only takes three minutes to get ready.
Give your everyday purchases a top-notch feel. "I have an insane amount of cardigans, including several from J.Crew, but I like to have them tailored because fitted sleeves and shoulders feel more designer-y." [Surprised? Most fine-gauge sweaters that have been sewn together at the seams, not knitted, can be altered.]
You can never have too much of a good thing. "If I see something I like and it fits great, I get it in different colors. I have one particular dress in five prints. Who cares if people see me in it a lot?"
Elizabeth Stewart can't live without… an iPad, toothbrush and toothpaste, lip balm ("ChapStick pinch-hits when I run out of my favorite, from the Japanese brand Suqqu"), and Chanel face powder.
Elizabeth Stewart keeps her shades eyeglasses on a display rack. Elizabeth Stewart likes to mix feminine with tough-girl. In fashion, says Elizabeth Stewart, a very big bag is almost required.