The Office-Ready Make Up Beauty Guide
Whether you're a Girl Friday just starting out or the Big Boss Lady, we've outlined the new code of conduct to make your beauty routine work for you come Monday morning.
OBJECTIVE:
Leap from cubicle warrior to corner-suite exec with can't-lose office make up looks.
BASIC QUALIFICATIONS. How to put on make up:
In or out of the office, makeup looks better on healthy, hydrated skin. "In unflattering work light, you can see everything, so start with a good moisturizer for a smooth surface under makeup," says makeup artist Tina Turnbow. "I also de-puff each morning with an eye gel — store it in the fridge so it's extra cooling." On days you down a supersize latte, "I love peppermint lip balm — it moisturizes, tingles, and helps with fresh breath when you're talking to people up close." Just don't skimp on the final review for your office make up: "Before you head out the door, take a mirror into natural light to make sure everything is properly blended." You want eyes on the bottom line, not your jawline.
ADDITIONAL REQUIREMENTS FOR:
The Old-School Office. How to put on make up: For corporate chic that dazzles like a 3-D PowerPoint slide, "Stick with a monochromatic face," says Turnbow. "A tinted moisturizer paired with an illuminating concealer will warm skin tone under harsh fluorescent lights. Neutral blush, lip stain, and mascara are essentials." Steer clear of false eyelashes, chunky mascara, ultrashiny lip gloss, and heavy shimmer or frost — consider those permanently banned from the boardroom.
The Laid-Back Office. How to put make up on: Everyone's in jeans, your coworker's pooch just piddled on the carpet — again — and the biweekly brainstorm takes place in a yurt. "Many companies are accepting of people's individual style these days, and office make up is part of that," says Turnbow. "In a creative space, you can get away with bright washes of colors — a poppy shade on the cheeks or lips or a jewel-tone eyeliner."
The Home Office. How to put make up on: Just because your workstation is a converted closet doesn't mean you can go all Miss Havisham. "Getting ready in the morning reminds me that I'm a working professional, even if The Golden Girls are on in the background," says self-employed blogger Amber Katz. "Investing in eyelash extensions once a month means I wake up Starbucks-ready," she says, "while colored lip balms provide necessary hydration." Meeting desk-jockey friends for dinner later? "I coil my hair into a Pebbles Flintstone — office make up style bun post blowout while I work," says Katz. "When I take it down, it falls into loose, mermaid-esque waves." Salon-worthy curls while racking up billable hours? Brilliant!
The Company Picnic. How to put make up on: Partnered with the boss for the three-legged race on the hottest day of the year? "Make sure you have SPF and that your foundation isn't too cakey in the daylight," Turnbow says. "Skip lipstick — you'll be eating — and curl your lashes for a fresh, wide-eyed look."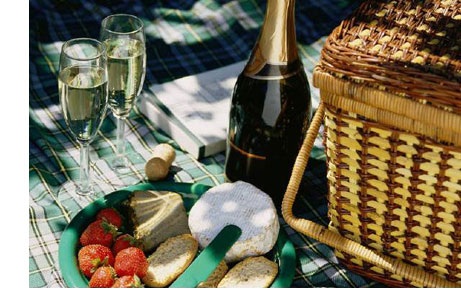 The After-Hours Soiree. How to put make up on: Keep your eye on the prize at this year's awards gala with evening makeup that won't have your CEO asking when RuPaul joined the company. "Remove the day's buildup and bring a little life to skin by tapping luminizer on the brow or cheekbone to mimic a candlelit glow. With a fat pencil eyeliner, create a smoky eye — it's quick, easy, and not as messy as shadow, which ends up flecked all over your cheeks," says Turnbow. "I love indigo blue because it brightens anyone's eyes. Add a coat of mascara, followed by a nude lip gloss." If applying that much eyeliner sounds scarier than a software training session, "Keep the eyes neutral and play up the lip instead — I'm into coral or hot pink right now."
The Crummy Commute. Office make up: You just woke up on the couch — damn you, Mob Wives marathon! — with five minutes to get dressed and a 20-minute drive ahead of you. Jump in your car and go, says Turnbow: "At the first stop sign, sweep Fresh's Here Comes the Sun bronzing palette onto cheeks." At the next red light, "apply the middle, rosy shade from the compact to eyelids in the rearview mirror — it warms up your eyes." Waiting to make a left turn? "Hit your lashes with a curler. It's safer and less messy than trying to put on mascara." Finally, "Add an earthy-colored gloss like Korres Liquid Lipstick in 30" on the dash in from the parking lot. Phew! What great office make up tips!
HAIR MEMO: It's no coincidence that Tess (Melanie Griffith) climbed the corporate ladder after she hacked off her rat's nest in Working Girl (the identity theft didn't hurt, either). Here's how to take your hair from tacky temp to polished profesh:
"Above all, you want healthy, shiny hair and color at the office. It shouldn't be too processed — overly bleached, heavily highlighted, or have deep roots — or it will appear rough and brittle," says Dana Fiore of the Louis Licari salon. The subtle version of the ombré hair trend "actually works well because it looks more natural." During office hours, Fiore likes styles that are smooth and sleek. "If it's overdone or too teased, you risk looking old-fashioned — or too sexy — so watch height." Desperate for a frizz-fighting weapon this July? "A touch of pomade tames flyaways on the hairline," offers Fiore.
EAU DE OFFICE: Your Jean Naté perfume shouldn't announce your arrival before you enter the conference room. Here, base notes to follow at headquarters:
"Fragrance is a reflection of someone's personality, like a wardrobe item. You can't dictate it," says Trudi Loren, VP of corporate fragrance development at Estée Lauder. "But if you prefer a heavy Oriental or woodsy perfume over a light floral or citrus, use the eau de toilette — or even just the lotion — for a more work-friendly impression." Just don't think that gives you permission to douse yourself in CK One like it's sixth grade all over again: "Spray your favorite scent in the air, and walk through it so that you're finely misted," says Loren, noting that a little restraint goes a long way in any industry. "And if you must reapply for an event, don't spritz at the office — instead, use a solid perfume or rollerball for a more precise application." Your cubemate — and her nose — will thank you.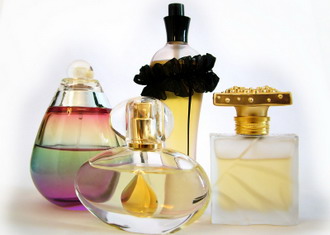 HELP WANTED: Scored a dream-gig interview? We rang up Chief Marketing Officer Wendi Taylor Nations of Heidrick & Struggles — an executive search firm — to get the big guns' take on hire-me-now hair and makeup
The last time I got a blowout before my ad agency interview, I left the salon looking like Angela Bower from Who's the Boss? Any suggestions? 
Whether it's pulled back or left down, hair should be healthy, unfussy, and worn in a neat, uncomplicated style that you feel comfortable in — nothing looks as good on you as confidence. Just don't wear this season's female pompadour — that one's a hard-and-fast rule.
Will my new turquoise hair streak be considered an ice-breaker? 
Hair color shouldn't be anything that's too young or overprocessed. And skip distracting hair accessories. If you don't try to look put together, then you haven't properly prepared, no matter how great your answers are.
Assuming I'm not a Kardashian, what do I want my makeup to say about me in an interview? 
Makeup should be fresh, age-appropriate, and impress that you're current and relevant. It shouldn't say that you rely on cosmetics as a crutch, so it can't be too heavy, outdated, or overly trendy like neon lips.
Last weekend I pulled a Snooki and "fell asleep" at the shore — are tans appropriate at an interview? 
A healthy tan is fine, a dark tan isn't. A deep bronze says that you're either hanging out on the beach all the time because you don't have a job or that you don't take the one you have seriously.
By Jessica Henderson