Swimsuit That Fits Your Figure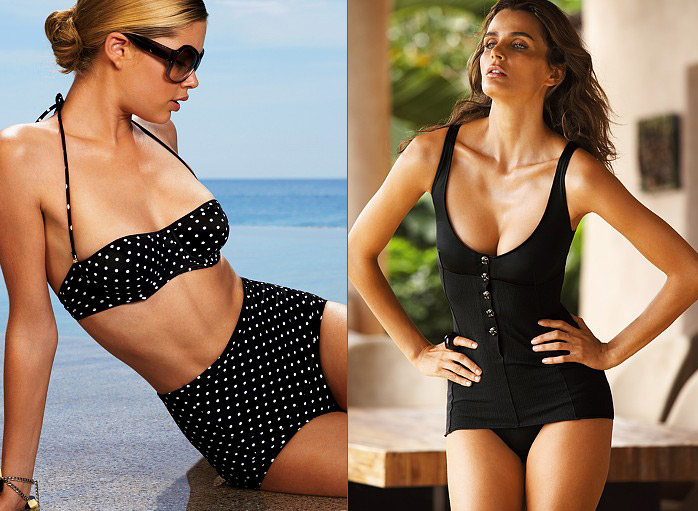 Rectangular Type of Figure Swimsuit
Those who has the rectangular type shapes, meaning they have the same width of the hips and shoulders. The waist is not expressed, the lack of curvy buttocks, could be a little belly. The main advantage of the rectangular type of figure are usually long legs with pretty skinny butt. Often those who represents of athletic figures have large breast too.
You can choose a one-piece swimsuit, where the level of the waist will be dark or with a belt. So you emphasize the waist, giving harmony to a silhouette. One-piece swimsuit fits well women with a little belly, keeps it closed from the eyes. Stay away from the horizontal prints in the shoulders and chest area. Choose a swimsuit with nice geometric patterns.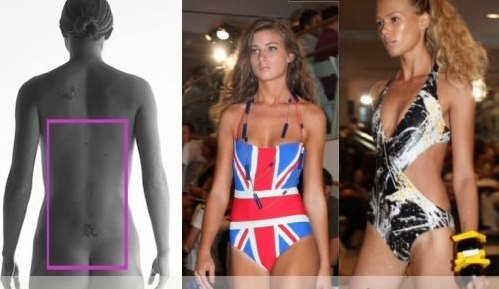 Swimsuit That Fits Your Figure
Round shape of the figure
Women with round shape of the figure usually have large breast, hips may not be wide, there might be an excess of fat on the waist and slim legs. Choose a solid color swimsuit with hard cups. Avoid striped lines in print. Do not draw attention to your stomach. Swimsuit with tank tops will look better on you than bikini swimsuit. Avoid thin straps and thin-small panties.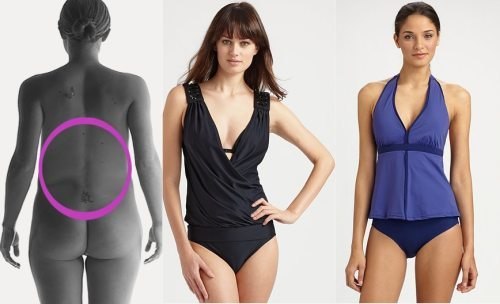 Swimsuit with U Neck
Sandglass shape of figure
Cups of swimsuit should be push-up, a bright top with ruffles and thin straps.
Sandglass type of figure considered the most ideal. It represents clearly marked waistline, appetizing buttocks and breasts. Sandglass shape of figure
Typically has bust of medium size: not too big, but not small either.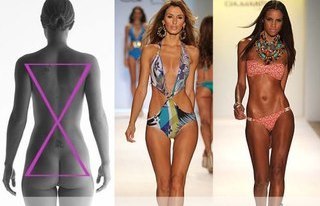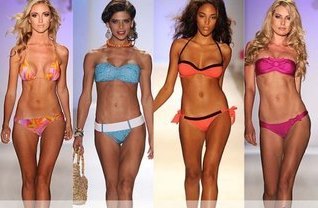 Swimsuits with a square neckline  
Triangle shape of figure
If you have a triangle type of figure then choose swimsuit with shorts and ruffles, with ties on each side which will increase the bottom appearance.
Your shoulders are narrower than the line of hips. Thighs are usually have some fat, but the waist is clearly marked.
You need visually reduce the bikini area and extend the shoulders line. Tops should be bright and patterned. Avoid swimsuits with high leg cuts. Avoid pants with ties at the sides.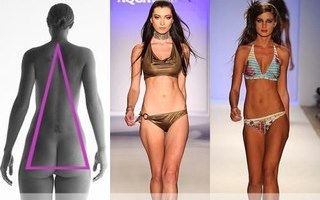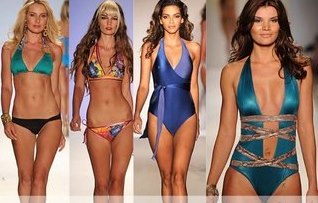 Swimsuit That Fits Your Figure
Athletic type of figure swimsuit
With athletic type of figure shoulders a little wider then hips, buttocks and thighs are flat, height is generally high. If you have an athletic type of figure you need visually enlarge the "bottom" part, and not to draw attention to the "up".
Choosing swimsuit for athletic type of figure: choose the swimsuit top that has straps fastened on the back neck. Choose a dark fabric for the tops, smooth with no prints, with push up effect for a small chest. And for the bottom choose a bright print that distracts the attention from the broad shoulders. If you want one- piece swimsuit then stay with a square-cut neckline models. Avoid swimsuits with top and shorts and with thin straps.