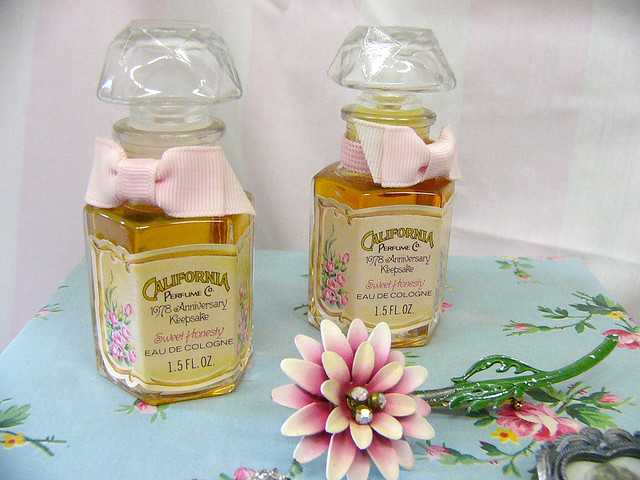 A collection of vintage perfume bottles will perfectly capture the romance of perfume.
Appealing to the most evocative of our senses, perfume has captivated humanity for millennia.  Even in the ancient civilisations of the world it was used in much the same way as it today – women perfumed their bodies with seductive and heavy-scented oils while supplications to the gods were sent heaven-wards upon wafts of sweet-smelling smoke.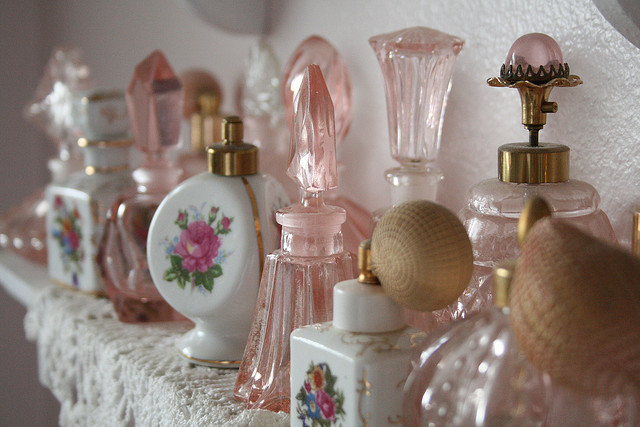 For as long as people have had perfume, they've had bottles to keep it in, and often the receptacles were as delectable as the liquid flights of fancy they contained. The ancient Egyptians crafted phials of alabaster, the Greek spun elegant ceramic vases, and as early as the 16th century Venetians were blowing elaborate glass creations. Now, when the scent itself has long since been used up or evaporated into obscurity, it is the vintage treasures perfume bottles that are left to speak of luxury and romance.
STARTING A COLLECTION OF VINTAGE PERFUME BOTTLES
When you are staring your collection of vintage perfume bottles, the field divides into two main areas: vintage perfume bottles designed for perfume to be decanted into and vintage perfume bottles which were sold with scent already in them, such as Rene Lalique's creations for Francois Coty. For these types of vintage perfume bottles, the value is in the name attached to them, whereas the other vintage perfume bottles have an intrinsic value because they make use of luxury materials and exhibit good craftsmanship.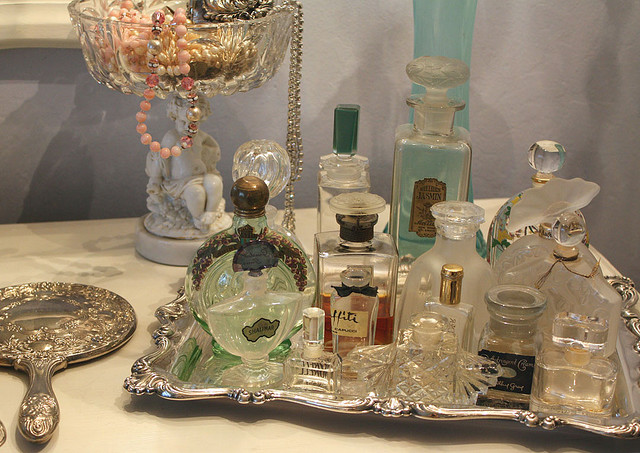 If you're looking for a pretty collection of vintage perfume bottles to adorn a dressing table, grouping bottles with a unifying features, such as those with ivory tops, can be particularly effective. With commercial vintage perfume bottles, their value will increase if they come with the original packing. It's important too that the vintage perfume bottles has its original stopper, and specialist dealer will advise you to look on the underside of early perfume bottles and you'll find a little number, which should match the number under the stopper.
THE GOLDEN AGE OF VINTAGE TREASURES PERFUME BOTTLES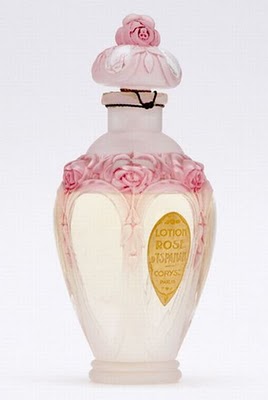 It was perhaps the 18th century, when potent scents incorporating expensive ingredients such as musk and civet were in vogue, that gave the world of perfume bottles its most lavish creations. Perfume in this period was sold to be decanted and anyone who could afford this luxury commodity could also afford a suitably opulent container. 18th century perfume bottles are rich and ornate. Many were gold, others vintage perfume bottles diamond-encrusted.
It wasn't until the invention of Eau de Cologne towards the end of the century, a new lighter, cheaper fragrance named after the city of its origin, that perfume started to be enjoyed by a greater proportion of the people, and the manufacture of scent perfume bottles was stepped up to match the increased demand.
By the 19th century there was an immense variety of materials and forms for perfume bottles. Now vintage perfume bottles then were not only made of glass in myriad colors but also of porcelain, silver, enamel and forged metal, with tops in ivory, tortoiseshell or silver. Fanciful forms also appeared, with perfume bottles in the shape of figures, fruits, flowers and practically every creature under the sun, all of which are now popular with collectors.
Bu the 20th century, perfume was being sold ready-bottled although most containers were of sober, classical design with only the label and stopper to identify the perfume.
However, a collaboration between two great innovators, the perfumer Francois Coty and glassmaker Rene Lalique, changed all this in 1907. For the first time, a perfume bottle was specially designed to evoke the fragrance it contained. And, as the many iconic perfume bottles of the 20th century testify – such as Channel №5 is smart, sleek container or Jean Paul Gautier's famous flask in the shape of female figure – the perfume industry has never looked back.
CARING FOR YOUR VINTAGE TREASURES PERFUME BOTTLES
Vintage perfume bottles can be washed in a mild detergent and the inside dried with a hairdryer on cool setting. Those vintage perfume bottles with labels, however, should just be wiped on the outside with a damp cloth. To treat alcohol-based stains, we recommend filling the perfume bottle with methylated spirits and changing the solution every hour or so until stains are gone.
As long as you treat your vintage perfume bottles with care and keep them in dry, ventilated room, there is no reason why you cannot fill your antique scent bottles with your favorite perfume and continue to enjoy them as was originally intended. However, boxed commercial vintage perfume bottles and those with original perfume inside, should be kept away from direct sunlight, which will causes packaging to fade and fragrance to deteriorate.