The bride need to have a lot of things with her on the wedding. ExclusivelyWeddings.com
For example, hair spray, comb, tissues, cosmetics, perfumes, mobile phones and many other things. Of course, the responsibility for most of those things should lay on brides-mates, but still some things bride should keep with her. So, where she should put it?   Of course, in a a small wedding handbag, which will only be a harmonious addition to the wedding dress. MLTailor Discount Designer Wedding Dresses, Over 30,000 types + Up to 60% OFF + Start ONLY $74.99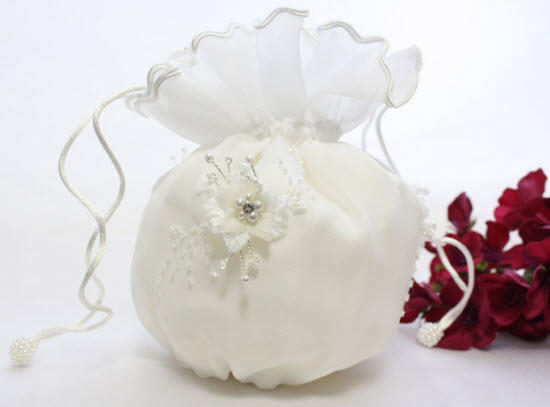 Bridal bag  can be easily matched to the style of wedding dresses. For big, princess style wedding dress with a fluffy skirt will be perfect bridal bag that looks just like he wedding skirt – round and fluffy. Such bridal bag bride should wear on the wrist, it is very convenient, this way the hand will be free and the wedding dress draping will conceals a rather big volume of the bridal bag. If the wedding dress has slim silhouette, then add the image of sophistication and elegance of a handbag such as bridal bag clutch.
Bridal bag clutch is worn directly in the bride's hand. If the wedding dress is just below the knee, than bridal bag in the form of "envelope" will complement this dress very nicely. Such bridal bag may be on a chain or without it. The color of wedding handbags can be selected to match the wedding dress, then it will not attract attention. If the bride's dress has lots of bright decorative elements, such as embroidery or a belt, then the bridal bag of the same color will look spectacular. It is also very unusual and has harmonious look if bridal handbag matched in color with a bride's bouquet, it will only complements each other. To achieve maximum combination with a wedding dress bridal handbags can be made of velvet, silk or lace.
Don't just forget your bridal bag immediately after the wedding, wedding handbag can be worn in everyday life. It will look  amazing on some social events in conjunction with an evening dress.